The unique building design bearing the breath of Singapore's green architecture has helped Metro Star project win the prestigious award "Best Mixed-Use Architecture Design Vietnam 2022 – Complex project with the most beautiful architectural design in Vietnam 2022" voted and awarded by Dot Property Vietnam Awards 2022 on July 28.
Exceeding the extremely strict criteria and evaluation and censorship process from Dot Property Vietnam Awards 2022 organizers – A prestigious award to honor outstanding projects and real estate developers with outstanding contributions to the sustainable development of Vietnam, the Metro Star project by Metro Star Investment Co. Ltd, a member of CT Land was honored to receive the award "Best Mixed-Use Architecture Design Vietnam 2022" thanks to its impressive architecture, innovative design thinking and high applicability in implementation, contributing to improving the quality of life for the community.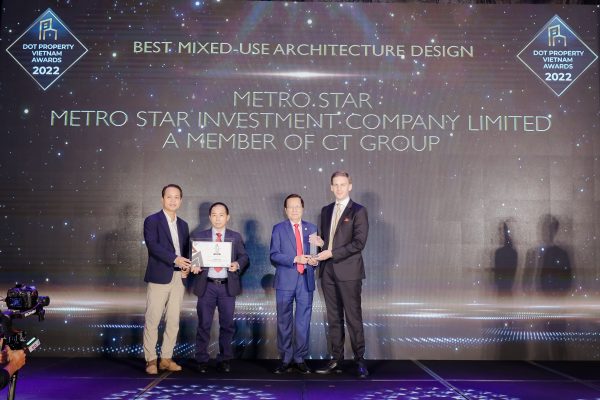 According to the Organizing Committee, Metro Star is a vivid example of a project owning sustainable green architecture, a diverse ecosystem that brings a balance between green nature and people. , Metro Star has surpassed hundreds of candidates to deserve this 2022 season's important award category. Axis – Singapore's leading design brand has devoted a lot of enthusiasm to create the Metro Star project with a unique living space greened from plants, water surface, wind and natural light.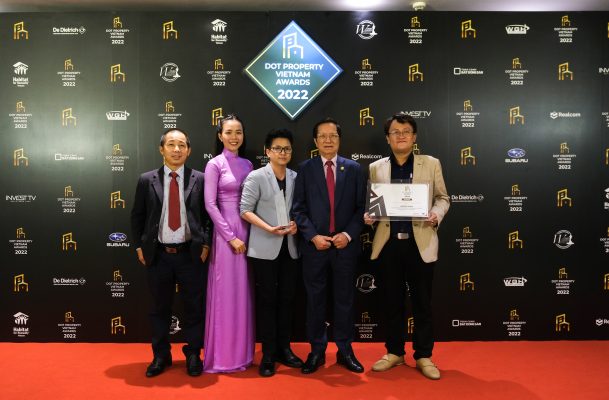 Among 1.8 hectares of land with a special shape, Axis created the design of 2 parallel buildings such as twin towers, each tower has a unique 3-pointed star shape, in order to optimize the ability to catch the cool wind to create green energy, create space and vision, ensure that all apartments have spacious windows, catching the wind and creating ventilation to bring good energy to all living spaces, including the kitchen and WC. The design is extremely energy efficient and always cools naturally from the inside. At the same time, this design also increases the efficiency of the arrangement of shophouses running along the base of the building, forming Myeongdong-style shopping pedestrian streets, in a unique and very interesting zig-zag shape. Every turn is a new and exciting experience for visitors every time coming there.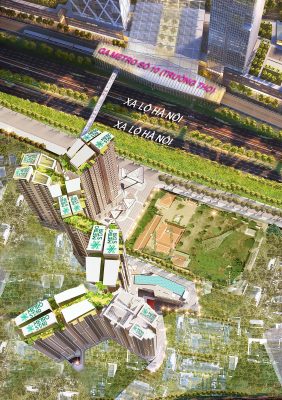 Metro Star brings more than 100 top-notch utilities of a dream city, simulating the 7 natural wonders of Singapore to increase the living experience for residents in their own homes. such as: Forest Garden with multi-story plants and flowers; Infinity Pool offers a floating experience in mid-air, where residents will have moments of refreshing relaxation in the cool water; Sky Bridge with a unique design connecting 2 buildings from the top floor promises to be an ideal spot to fully watch the sunset over the city; The Vitality Garden opens a lush garden for residents to indulge their passion for farming as if they were living in a peaceful home on the ground; Play Parc is inspired by the famous tourist island Sentosa, harmoniously combining an amusement park with a natural park, providing a fun space with many exciting activities just a short distance from the apartment. save a few steps; Wellness Sanctuary blends the blue of the sky and the landscape, helping residents have moments of relaxation in their souls and the bustling Sky Symphony with food court, endless entertainment.
The wondrous marvels converging at Metro Star both elevate the architecture of the living space and increase the feeling of fully enjoying every moment, so that members from all generations of a family can feel every rhythm of fresh nature or walk with beautiful wonders and fully enjoy all facilities from relaxation, health care, beauty, study, shopping, dining, playing entertainment… right on the porch.
In addition to the outstanding architectural elements, Metro Star also scores points in the views of customers and investors and clearly demonstrates the potential of a mixed-use with the most expensive location in the East when this is a rare project that connects Directly at Terminal 10 of Metro Line 1 Ben Thanh – Suoi Tien, right opposite Central Business District (CBD) Truong Tho, in the center of  Thu Duc City – the place that receives the explosion of infrastructure, a vibrant, bustling and constantly developing area.
Metro Star is developed by CT Land – a reputable real estate brand with many years of experience in the field of developing outstanding real estate projects, creating works with impressive architectural styles and facilities, highly appreciated by both professionals and customers. This award is considered as the next mark in CT Land's development journey and brings pride to the elite community of residents living in the project owning the most beautiful architecture in Vietnam like Metro Star.
About Metro Star
Address: 360 Hanoi Highway, Phuoc Long A Ward, Thu Duc City, HCMC
Hotline: 0907 896 565